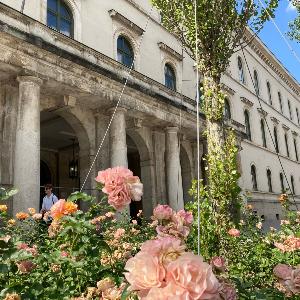 News overview
All news at a glance.
Research award for Prof. Dr. John Jaspersen

The Professor of Behavioral Risk Management and Insurance receives the Early Career Achievement Award for his outstanding achievements in the field of risk management and insurance science.

Zeit Campus Interview mit Prof. Ali Aslan Gümüsay

What can higher education – and society – learn from Sufi circles, the circular economy, and the Catholic church? A lot, says renowned management scholar Ali Aslan Gümüsay, professor of innovation, entrepreneurship and sustainability at LMU Munich.

In eighty days to the new dean

Joint walkout of the deans of business administration and economics. In two months, the new deans of both faculties will take office.

IMV-Lab

The Impact Measurement and Valuation Lab (IMV-Lab) research project explores the potential of impact measurement and valuation for social innovation.

Desirable Futures at EGOS

Prof. Dr. Ali Gümüsay co-convenes the EGOS Standing Working Group, a four year (2023-2026) Standing Working Group under the European Group for Organizational Studies (EGOS).

And the Award goes to...

Prof. Dr. Dr. h.c.. Marko Sarstedt wins the prestigious William R. Darden Award at the 2023 Academy of Marketing Science Annual Conference.

Again 1st place in the WiWo ranking

The WirtschaftsWoche university ranking shows that the LMU Munich School of Management offers the best conditions for studying to get an attractive job.