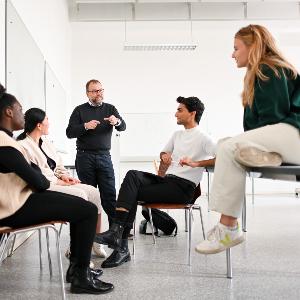 Study offers
From bachelor's to doctoral degrees - LMU Munich School of Management offers you a wide range of degree programs with an individual focus.
Bachelor degree programs
Studying at the LMU Munich School of Management creates bright prospects for a successful professional career. With our Bachelor programs, you can hit the ground running. We offer you a wide range of opportunities with excellent research and outstanding teaching.
Master degree programs
We offer a wide variety of master's programs that you can study after completing a bachelor's degree - to deepen a subfield from your bachelor's degree, or to gain supplementary knowledge in related fields. You can choose from a broad range of programs:
Study of economics on teaching profession
In the course of your studies to become a teacher of economics, you will learn the basic subject-specific and methodological competencies required for independent teaching in the subject of economics and law at Bavarian grammar schools or in the economics subjects at the Realschule (secondary school). You will put the knowledge you have acquired into practice during your traineeship and use it professionally in your later professional life.
Taking business administration as a subsidiary subject
If you choose geography, mathematics, statistics or computer science as your major in your Bachelor's degree, you can take business administration as your minor. You can minor in economics if you major in computer science, communication studies, political science, sociology or Japanese studies in your Bachelor's degree. We also offer Insurance and Risk Management as a minor.
Our doctoral program MBR
The LMU Munich School of Management offers a postgraduate program in Business Research (Master of Business Research, MBR). This four-semester program is a mandatory component of the doctoral degree and aims to equip students with the methodological basis for high-quality business research.