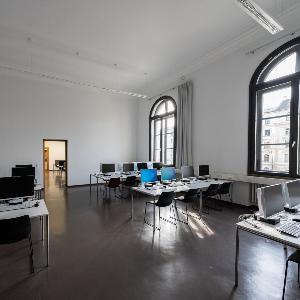 SOM IT for students
CIP-Pool and FIT courses. Students have access to modern equipped computer workstations with current software (e.g. Stata, SPSS). We also offer IT related courses.
News
CIP-Pool:
Tutor presence: Monday through Friday 10 am to 6 pm, Saturday 10 am to 2 pm
Courses (in German language):
Registration period for DBS and ERP: July 3rd to July 24th, 2023
Change content
CIP-Pool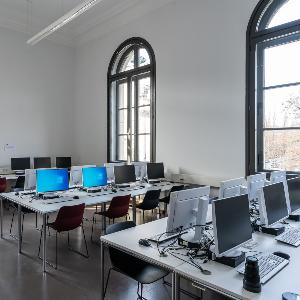 The PCs of the modern equipped computer lab CIP-Pool are equipped with free and licensed (e.g. Stata, SPSS) software for working on assignments in courses, writing seminar papers and bachelor theses or printing out documents in cloud printing.
For whom ? for students of SOM (BWL) and ECONM (VWL), access with LMU identification (LMU Kennung)
Support hours: Tutors provide support in case of problems
- during semester: Monday to Friday 10am to 6pm and Saturday 10am to 2pm
- during the semester break: Monday to Friday 10am to 4pm
Operating system and installed software: MS Office and research/statistical software (Stata, SPSS, Matlab, etc.) detailled Software List
How to Log-In: Students of Business Administration BWL and Economics VWL, including minor and teaching degree, can log in with their LMU user ID LMU-Benutzerkennung or LRZ-ID LRZ-ID . If you do not know your user ID or the corresponding password, please contact the IT service desk. IT-Servicedesk Kontakt. The ID can be viewed in the user account via the LMU-Portal
Storage space on personal drive with worldwide access: A personal drive is available to each student. The data is backed up daily by the Leibniz Supercomputing Center, making the drive suitable for backing up important work and data. In addition, it is possible to access the data from outside the CIP-Pool: the drive can be connected to the student's own computer/laptop Personal network drive or accessed via web interface at any time.
LMU Cloud Printing: You can upload print jobs to the cloud and print them out at the PCs of the CIP pool or from your device. Billing takes place via the LMUcard or Legic card ("Mensa card").. DInformations regarding LMU Cloud Printing etaillierte Informationen zu LMU Cloud Printing
Contact: CIP-Pool Tutors E-Mail CIP-Pool Tutor or call 089 / 2180-3816
Courses (in German language)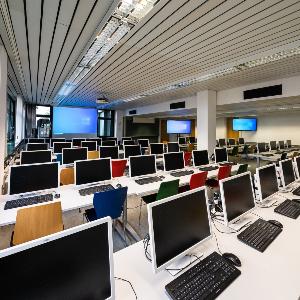 Course overview with dates and LSF-Links
We offer students of all semesters numerous changing events, such as:
presentation design and presentation with Powerpoint
scientific word processing with Windows Word
In the basic studies of economics we offer:
Excel crash courses in preparation for the compulsory course "Wirtschaftsinformatik".
Courses in the focus of the main studies (possibility to gain ECTS points) about:


Database systems for economists
Introduction to ERP systems using MS Dynamics NAV as an example
Please note:
in the LSF the dates can only be viewed for the current semester. Please check our
course overview
.
FAQ
What software is installed on the PCs?
A list of the installed programs can be found on this website under "CIP Pool Software List".
What does a printed page cost and what formats are available?
Detailled information regarding printing are available on the website of LMU Library
How do I find out my LRZ ID?
You can find your LRZ ID in your user account in the LMU-Portal.
I have forgotten my LMU user ID or password, what can I do?
Please contact the LMU IT-Service- Desk.
I cannot log on to the PC, error message "The logon of the service 'User Profile Service' has failed".
This error may occur intermittently. Please restart the PC or log on to another PC.
I cannot log in to the PC, error message "Username or password incorrect".
Please test your LMU user ID by logging into the LMU-Portal. If you receive an error message regarding the access data there as well, please contact the LMU IT-Service-Desk.
I cannot log in to the PC, error message "The login method used is not allowed".
Please make sure that you belong to the authorized group of persons. Since this is a CIP-Pool of the faculties BWL and VWL, only students of these faculties, including minor and teaching degree, are authorized to access with their LMU User-ID.
Who can I contact in case of problems ?
To the tutors of the CIP-Pool (during the "Support hours" on this website)