Insights - the faculty magazine
Annual news from the faculty, teaching and research at the LMU Munich School of Management.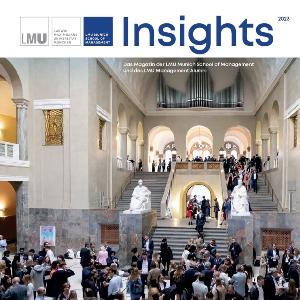 Insights - the magazine of the Munich School of Management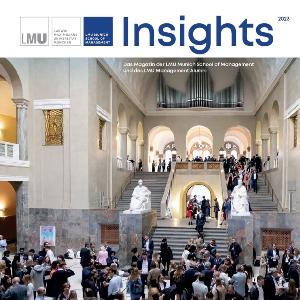 The faculty magazine Insights keeps you informed about news from research, teaching and practice and offers you a deeper insight into the work of faculty members.
The magazine includes contributions from faculty members and covers a wide range of topics from academic studies and research projects to career and industry development.
Insights is a valuable resource for anyone interested in learning about the work of faculty and tracking their accomplishments and successes.
It is published annually and edited by LMU Munich School of Management and the LMU Management Alumni network.
Insights 2023
Topics in the latest Insights 2023 issue include:
20 years of LMU Alumni Management. We look back with pride on a successful 20-year collaboration with our own alumni association and dedicate the 16 inside pages in the issue to this anniversary with timeline, quotes, events and outlooks etc.
Research. News about our research from augmented reality-based training to women in science to higher-order beliefs in sustainable investing and much more.
Teaching. We report from our teaching, from orientation to our new programs impACTup! and Master Honors Program to addressing climate change in the age of AI and more.
Faculty. We take a look behind the scenes with articles on the relaunch of our new website, welcome Prof. Ali Gümüsay and show impressions of our student council WASTI and much more.
The latest issue Insights 2023 is available free of charge for you in the faculty, in the institutes as well as in the Alumni Office.
You are also welcome to download the issue or download it as a Flowpaper.
Here you can view the past issues as flowpaper:
View the 2022 edition as Flowpaper.
View the 2021 edition as Flowpaper.
Previous print editions of Insights magazine
Missed an issue? No problem - in our archive you will also find previous print issues of the faculty magazine.
Faculty communication thrives on the latest research topics and news from the institutes and facilities. Would you like us to publish your topic in our faculty or alumni media? Then feel free to contact us directly via E-Mail .

Media contact
Contact

Dr. Rahild Neuburger

Address

LMU Munich School of Management
Ludwigstr. 28
Room 206
80539 Munich

Telephone

+49 89 2180 - 3801

E-mail

neuburger@lmu.de