Princess Therese of Bavaria Award for Professor Tenzer
23 Jul 2023
The award was presented at a festive ceremony.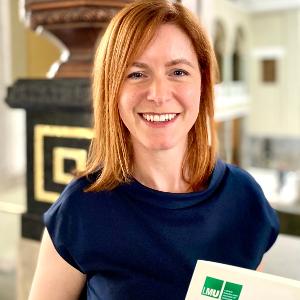 Royal representative, expedition traveler, researcher and first honorary doctor of the LMU: Princess Therese of Bavaria (1850-1925) defied the norms of her time. As the daughter of Prince Regent Luitpold and Princess Auguste of Tuscany, she stood out from a young age with her insatiable thirst for knowledge, catching the attention of her private tutors. Despite societal expectations, Princess Therese pursued her passion for learning and delved into diverse subjects, studying exotic animals, plants, foreign cultures, and mastering twelve languages. However, she was discouraged from learning Latin, as it was believed that proficiency in this language hindered marriage prospects for young women. Unlike her brothers, she was also not allowed to study mathematics. Only in 1903, thanks to the initiative of Prince Regent Luitpold, were Bavarian universities finally opened to women.
But Princess Therese eschewed the traditional route of marriage and a life in the service of the monarchy. At the age of 27, she negotiated to receive mathematics lessons and embarked on an intense journey of self-study in natural and social sciences, geography, geology, botany, zoology, and ethnology. She attended university lectures and explored natural science collections, igniting her wanderlust and desire for personal discoveries.
Between 1871 and 1913, Princess Therese of Bavaria undertook numerous expeditions, venturing to Greece, Scandinavia, Russia, North and South America. She braved extreme conditions, enduring scorching heat, freezing cold, pneumonia, altitude sickness, and severe malaria attacks. Yet, these challenges did not deter her from paddling across rivers in a dugout canoe, scaling mountains, or embarking on ten-hour horseback rides at a rapid pace. Her adventurous travels allowed her to explore anthropological, ethnological, archaeological, botanical, and zoological phenomena. She amassed a collection of hundreds of plant and animal species, as well as bones and fossils. Despite the obstacle posed by her lack of Latin knowledge in classification, she persevered through time-consuming reference work. Her valuable treasures now reside in the Museum Fünf Kontinente and the botanical state collection.
Princess Therese actively participated in various scientific societies during the turn of the century. In 1890, she became the first and only female honorary member of the Bavarian Academy of Sciences and Humanities. Additionally, in 1897, she became the first woman to receive an honorary doctorate from the LMU. She was dedicated to improving girls' and women's education.
To honor Princess Therese's pioneering role for women in science in Bavaria, the Princess Therese of Bavaria Foundation at LMU awards the Princess Therese of Bavaria Prize every two years. This prestigious award recognizes young aspiring female scientists, as well as established female professors at LMU, who have made remarkable scientific achievements through their transdisciplinary and internationally oriented research. These awardees serve as role models for women in the university community. This year, two postdocs and three female professors from the fields of law, business and economics, and social sciences received the Princess Therese of Bavaria Prize. Notably, Prof. Dr. Helene Tenzer was the first member of LMU Munich School of Management to receive the award.
The award ceremony was held in a festive atmosphere, with distinguished guests in attendance. Prof. Dr. Francesca Biagini, a 2019 laureate and current Vice President for International Affairs and Diversity at LMU, delivered welcoming remarks. Dr. Auguste Princess of Bavaria, a group leader at the Max Planck Institute for Biological Intelligence, who researches the behavior of corvids, parrots, and pelicans, also extended greetings. The women's representative at LMU, Dr. Margit Weber, emphasized that while female researchers at LMU today no longer face the same obstacles as Princess Therese of Bavaria did back then, they still face difficulties in their academic careers, especially when it comes to balancing family and career. Ultimately, the same qualities that led to Therese's success—thirst for knowledge, concentration, tenacity, and a willingness to overcome obstacles—remain essential for women's success in academia today.
The award brochure (in German) can be found here: https://www.frauenbeauftragte.uni-muenchen.de/foerdermoegl/lmu/therese/preistragerinnen/thvb-2023.pdf