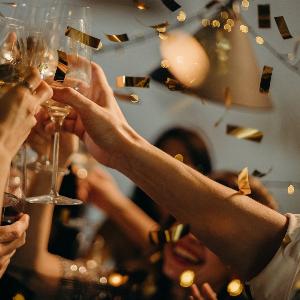 On Friday, November 24, the big Homecoming & 20th Anniversary LMU Management Alumni Celebration will take place!
We will be there and look forward to seeing you:
"20 years of promoting, informing, networking."
We would like to celebrate this together with them. Without our members, interested parties and supporters, such a brilliant time would not have been possible so far. And it goes on, we still have a lot planned with and for you!
Be the real stars of the event and enjoy a varied social program - as always also with lots of information about the faculty and the alumni network.
Network and exchange ideas with current and former students in a relaxed atmosphere.
See your fellow students again and listen to the stories of our alumni.
We don't want to reveal too much yet - only that there will be interesting "Cluster Areas", packed with information on current topics from practice, paired with research results. Our scientific staff and one or two professors are looking forward to talking to you.
The evening will then become cozy in the lounge, at the buffet or in our well-stocked bar and once again challenging at our "active tables".
Save the Date! We are looking forward to seeing you.
LMU Management Alumni
Bettina Wachtel / Silke Heckmann
+49 89 2180 - 3261
alumni@som.lmu.de
Ludwigstraße 28, VG Room 005
80539 Munich
Homecoming & 20 Years LMU Management Alumni Celebration