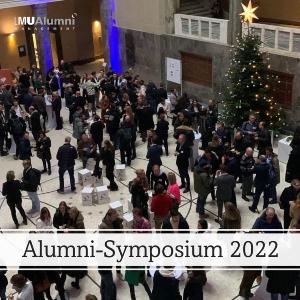 "From the New Normal to No Normal? Business Administration in a Fragile World"
This year's motto of the Alumni Symposium 2022 attracted numerous visitors to the LMU's main building at Geschwister-Scholl-Platz. Exciting insights were offered by Professors Thorsten Sellhorn, Ryan Riordan, Stefan Feuerriegel, Marko Sarstedt and Professor Helene Tenzer with their presentations on the question of business administration in today's world. The panel discussion with Dr. Elisabeth Denison, Chief People Officer at Deloitte, Dr. Nicolas Peter, CFO of BMW Group and Ernst Rauch, Chief Climate and Geo Scientist at Munich Re approached and hotly debated this topic from a business perspective.
After the wealth of insights and information, the afternoon came to a close in the impressive atmosphere of the Lichthof at the foosball table and mulled wine stand.
It was a successful Symposium 2022 with numerous visitors.
The event, organized and carried out by the Alumni Management, was supported by the long-standing alumni partner Deloitte.
We are looking forward to the new Alumni Symposium 2023!