BSc-Pflichtseminar Leadership & Organization
Current Topics in Leadership, Organization, and Innovation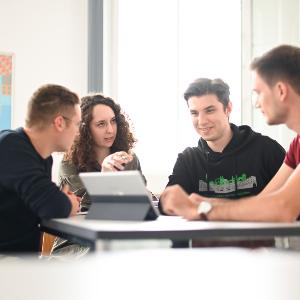 Current Topics in Leadership, Organization, and Innovation
Leading organizations means leading people. But how do you lead people such that they innovate, thrive, and advance organizational goals? In this seminar, we will look at the human side of organizations. The fundamental objective of this seminar is to gain deeper insights into questions such as the following (illustrative sample questions): What drives people to contribute in organizations? Why do some teams collaborate productively and others don't? How do collectives innovate? How do individuals react to change? How do socio-political events affect employee well-being at work? What organizational consequences does working from anywhere imply? How may digital technologies aid organizations transform?
After completing the course, the students will have the necessary basic knowledge, analytical methods and technical skills to independently complete a scientific paper. In addition, the course teaches systemic skills for the application of theoretical concepts and critical analysis of complex, subject-related problems. Through the group work and presentation of the seminar paper, the students also learn important social skills such as teamwork, communication and conflict skills.
Schedule
Please refer to LSF for the schedule.
Presentation in groups, class contribution, and seminar paper
During the Kick-Off, participants will form groups and these groups can choose among different topics for presentations. During the presentation day, the course participants present their topics in groups. Depending on the group size, each presentation lasts approx. 30 minutes (for teams of 3) or approx. 40 minutes (for teams of 4), which is followed by a short discussion in the plenum after the presentation. Therefore, the presenters should provide initial input to the discussion and take over a moderating role during the discussion. After the presentation day, the course participants will write a seminar paper (approx. 22.200 characters for each participant) about their presented topic. This will regularly be done as a group work with the same partner(s).
Literature
Further details about the course including a list of required readings will be provided during the first meeting (kick-off).
Registration
The registration will be coordinated centrally. Please contact Louisa Weritz (hauptseminare@lmu.de) for questions regarding the seminar allocation. You can find more information here: https://www.som.lmu.de/de/studium/studierende-quereinsteigende/anmeldungen-kurse-seminare/index.html
Please contact Luca Haaks (l.haaks@lmu.de) for futher questions on this specific course.