Cooperation Opportunities
We offer various cooperation opportunities.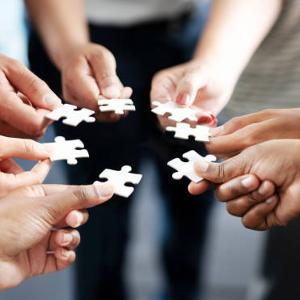 With regards to opportunities of cooperation, we usually distinguish between:
project seminars, project courses and bachelor and master theses
industry funded research projects
consulting projects
| Project type | Project duration | Project responsibility |
| --- | --- | --- |
| Project seminar | 2-3 months | Students (Bachelor, Master) |
| Project course | 3-4 months | Students (Master) |
| Bachelor and master thesis | 2-5 months | Students |
| Third-party funded project | approx. 3 years | Prof. Dr. Schwaiger |
| Consulting project | Flexible | Prof. Dr. Schwaiger |
Are you interested?
Contact us! We are looking forward to get to know you and listen to your specific needs in a personal conversation: imm@som.lmu.de.
Project seminars, project courses, bachelor and master theses
Project seminars are offered each term, usually beginning in February and July. Projekt courses are offered each sommer term (April - July). Students work on specific managerial problems and develop a basis for decision-making.
Advantages:
Outstanding students - both in terms of academic record and committment - work on real world business problems in teams of two or three over a period of two to three months in the project seminar and three to four months in the project course. Students carry out a scientific and detailed analysis of a company's problem. IMM takes on a co-ordinating role, but does not work on the problem with own staff.
Possible projects cover a large spectrum, e.g. market research, analysis of industry structure, studies about customers or employee satisfaction, development of market-based business-segment strategies…. The outline of the project should not be too extensive.
Cost-effective
There are only little differences to bachelor, diploma or master theses. These are prepared by only one student during a period of two to five months. There are no constraints on starting times.
Here you can find a selection of practice partners and worked problems from the past semesters:
Allianz (PDF, 40 KB) (Entwicklung einer Produktinnovation)
Allianz (PDF, 40 KB) (Entwicklung eines Zielgruppenansprachekonzepts)
Audi (PDF, 28 KB) (Evaluation der Audi Sommerkonzerte)
BavariaDirekt (PDF, 123 KB) (Social Media und Content Marketing Strategie entlang der Customer Journey)
BavariaDirekt (PDF, 123 KB) (Reengineering Customer Journeys)
BavariaDirekt (PDF, 110 KB)(Entwicklung einer Datenlandkarte und eines Customer Lifetime Value Modells)
Bayer (PDF, 38 KB) (Evaluation und Weiterentwicklung des "Live Experience Index" der Bayer AG)
Bayer (PDF, 36 KB) (Entwicklung einer Markenpositionierung)
Bayer (PDF, 123 KB) (Identifikation und Analyse der Treiber von Likeability sowie Kundensegmentierung)
BR24 (PDF, 123 KB) (Crossmediale Markeninszenierung)
BSO (PDF, 125 KB) (Entwicklung eines Konzepts und Ableitung von Marketingmaßnahmen)
BSO (PDF, 208 KB) (Entwicklung eines Konzepts zur Öffnung der Bayerischen Staatsoper)
Clevis Research (PDF, 151 KB) (Marketingstrategie und Studie zum Thema "Social Practice")
Clevis Research (PDF, 37 KB) (Studie zu Internationalisierungsstrategien)
Codello (PDF, 109 KB)Entwicklung von idealtypischen Kundenclustern
Deloitte (PDF, 118 KB) ("Customer Experience Measurement" in der "Retail" Industrie)
DieSchulApp (PDF, 36 KB) (Erstellung eines Marketingkonzepts zur Produkteinführung)
Diverse Gemeinden (PDF, 52 KB) (Treiberanalysen zur Lebensqualität)
e+p films (PDF, 22 KB) (Erarbeitung eines "Bewegtbildkompass" zum Thema "TV der Zukunft")
EY (PDF, 22 KB) (Erarbeitung einer Expansionsstrategie für einen Snackspezialisten)
EY (PDF, 39 KB) (Neue Ansätze zur nachhaltigen Energieversorgung nach dem Atomausstieg)
EY (PDF, 38 KB) (Auswirkungen der Neupositionierung eines bekannten Modelabels auf die Konsumentenwahrnehmung)
Factworks (PDF, 70 KB) (Analyse alternativer Brand Equity Metriken)
GEV (PDF, 20 KB) (Analyse und Optimierung von Prozessen bei der GEV)
Haver & Boecker (Erstellung eines Frühwarnsystems für Unternehmenskrisen)
Klima-Haus Manufaktur (PDF, 47 KB) (Markt- und Wettbewerbsanalyse)
Langenscheidt (PDF, 36 KB) (Markenpositionierung)
MAN Financial Services (PDF, 123 KB) (Identifikation von Treibern der Nutzerakzeptanz im Nutzfahrzeugbereich)
MAN Financial Services (PDF, 205 KB) (Elektromobilität für Nutzfahrzeuge und deren Bedeutung für Captive Finance Gesellschaften)
MYLE GmbH (PDF, 211 KB) (Definition der Zielgruppe, Ausarbeitung geeigneter Kommunikationsmaßnahmen sowie Entwurf einer Preisstrategie)
Parship.de (Positionierung und Markenbildung von Internetfirmen im Bereich Dating/Matchmaking)
Pepper Consulting (Analyse von Loyalitätsprogrammen)
Red Bull (PDF, 36 KB) (Shopper Insights zu In-Store-Tools)
REPA (PDF, 121 KB) (Marktanalyse für ausgewählte Produktbereiche der REPA Group)
REPA (PDF, 121 KB) (Erarbeitung eines Konzepts zur erweiterten digitalen Kundenansprache für die REPA Group)
Roeckl (PDF, 31 KB) (Identifikation und Evaluation bestehender und potentieller Kundengruppen)
Telefonica (PDF, 49 KB)(Marketingmaßnahmenentwicklung zur Steigerung der Frequenz in verschiedenen Vertriebskanälen)
Tierpark Hellabrunn (PDF, 54 KB) (Besucherzufriedenheitsstudie)
TÜV SÜD (PDF, 35 KB) (Konzeptausarbeitung einer TÜV Süd Erlebniswelt)
Sahlberg (Kundensegmentierung, Anpassung des Market Approach und der Unternehmenskommunikation)
Valuescope (PDF, 38 KB) (Reputationsmonitoring im Social Web)
Vendoleo (PDF, 36 KB) (Adaption einer Marke für den deutschen Markt)
Versicherungskammer Bayern (PDF, 38 KB) (Zufriedenheitsstudie bei Agenturen)
Versicherungskammer Bayern (PDF, 38 KB) (Zufriedenheitsbefragung des angestellten Außendienstes)
Versicherungskammer Bayern (PDF, 38 KB) (Erwartungsmanagement für die Einführung eines neuen Vertriebssystems)
Versicherungskammer Bayern (PDF, 38 KB) (Ermittlung der Beratungsqualität von Kundengesprächen)
Industry funded research projects
For industry funded research projects we hire people that work exclusively on that project and normally write their dissertation about it. That is why the project time frame should last at least three years. The project - at least in part - needs advance scientific research. Usually, companies address us with project proposals that are not yet or only roughly structured. Advantages:
The problem is treated extensively and scientifically
Project quality is assured by continuously monitoring the research, e.g. through research seminars, PhD classes, and a postgradual coure in business research methods (MBR "Master Of Business Research")
The project team draws on IMM expertise
It is conceivable that the person in charge of the project is based at the partner company.
Consulting Projects
Consulting projects are treated by the head of department and a team of cunsultants. Advantages:
Quick presentation of project results
Compliance with standards of quality and performance
High flexibility concerning the formulation of a problem and the services to perform
Have a look at some selective reference projects.