User-centric Digital Advertising
Research project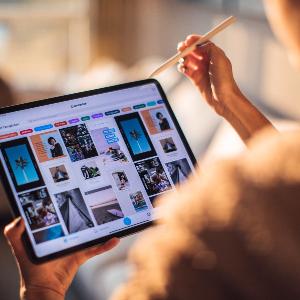 User-centric digital advertising
Challenges and potentials for advertisers and users
Description
Digital advertising has established itself as one of the most important advertising media. Mobile formats in particular, such as social media marketing, influencer marketing and in-app marketing, reach millions of potential customers and account for around half of global advertising sales. Expenditure on digital advertising will amount to €290.10 billion in the USA alone in 2023 (€16.3 billion in Germany) and will continue to rise, so that spending will grow by around 150% by 2027. At the same time, the burden of digital advertising on users is also growing, threatening the effectiveness of advertising media.
In this project, we use scientifically-based theories and methods to analyze what potential and challenges arise from the new forms of advertising and how users react to these forms of advertising. We use a user-centric perspective, which puts the users at the center of our analysis. This allows us to classify, understand and make transparent the modes of action and advertising success. At the same time, it offers important insights for practice and the advertising industry, which proves that the needs of the user must be addressed individually.
Results
The results of our project show, among other things, that herd behavior in social media means that people close to us can tempt us to like or buy a product. Furthermore, we see in the results that influencers also build up a certain emotional closeness to their followers and then use it to advertise certain products and subconsciously create a desire to buy because the users have the feeling that they are doing something good for themselves. In addition, we show that security concerns and privacy violations caused by digital ads, but also unwanted distractions and lost productivity, increasingly lead to users deliberately avoiding ads or preventing the delivery of ads by ad blockers altogether. From the point of view of advertisers and the numerous advertising-based (i.e. free) websites and business models on the Internet, this development is very critical. Our results suggest that simply increasing users' awareness of the benefits of advertising in the form of free access to websites and services results in users being willing to receive ads again.
Selected publications
Mattke, J., Maier, C., Reis, L., and Weitzel, T. (2020)
Herd behavior in social media: The role of Facebook likes, strength of ties, and expertise
Information & Management (57:8), 103370, https://doi.org/10.1016/j.im.2020.103370 (VHB-JOURQUAL 3 Rating: B)
Mattke, J., Maier, C., Reis, L., and Weitzel, T. (2021)
In-app advertising: a two-step qualitative comparative analysis to explain clicking behavior
European Journal of Marketing (55:8), p.2146-2173, https://doi.org/10.1108/EJM-03-2020-0210 (VHB-JOURQUAL 3 Rating: C)
Mattke, J., Müller, L., and Maier, C. (2019)
Paid, Owned and Earned Media: A Qualitative Comparative Analysis revealing Attributes Influencing Consumer's Brand Attitude in Social Media
Proceedings of the 51th Hawaii International Conference on System Sciences (HICSS), Hawaii
Müller, L., Mattke, J., and Maier, C. (2018)
Online Advertising Research Through the Ad Delivery Process: A Literature Review
Proceedings of the 18th ACM SIGMIS Conference on Computers and People Research, Buffalo-Niagara Falls, New York, USA
Müller, L., Mattke, J., and Maier, C. (2018)
#Sponsored #Ad: Exploring the Effect of Influencer Marketing on Purchase Intention
Proceedings of the 24th Americas Conference on Information Systems (AMCIS), New Orleans, Louisiana, USA
Mattke, J., Müller, L., and Maier, C. (2018)
Why do Individuals Avoid Social Media Advertising: A Qualitative Comparison Analysis Study
Proceedings of the 26th European Conference on Information Systems (ECIS)
Mattke, J., Müller, L., Maier, C., and Graser, H. (2018)
Avoidance of Social Media Advertising: A Latent Profile Analysis
Proceedings of the 18th ACM SIGMIS Conference on Computers and People Research
Mattke, J., Müller, L., Maier, C., and Weitzel, T. (2017)
Engagement with Social Ads: Explaining the Influence of Herding in Social Media Advertising
Proceedings of the Special Interest Group on Adoption and Diffusion of Information Technology (DIGIT) (Pre-ICIS Workshop), Seoul, South Korea
(Research in Progress)
Best Paper Nominee
Müller, L., Mattke, J., Maier, C., and Weitzel, T. (2017)
The Curse of Mobile Marketing: A Mixed Methods Study on Individuals' Switch to Mobile Ad Blockers
Proceedings of the 38th International Conference on Information Systems (ICIS), Seoul, Korea
Mattke, J., Müller, L., and Maier, C. (2017)
Why do individuals block online ads? An explorative study to explain the use of ad blockers
Proceedings of the Twenty-third Americas Conference on Information Systems (AMCIS), Boston, MA, USA
Funding
Third-party funded project in cooperation with SAP SE
Website and related links

Duration
2 years (06/2017 to 05/2019)
Media
Interview zur Zukunft der digitalen Werbung (Radio), 1.10.2017
Bayern 2
Digitales Marketing, 28.7.2018
RTL Nachtjournal
Practice partner
One Stop Marketing München
s. Oliver
OTTO
baur