Strategic Management: Concepts and Cases
Organization
Offered in WS 23/24?

Exam only

Teaching

Course type

Lecture and tutorial

Design

2 hour lecture and 2 hour tutorial each week

Grading

Exam

Registration

No registration

Credits

6 ECTS in " Marketing and Strategy I" or "Kompetenzbereiche der BWL I – III"

SWS

4

Language of instruction

English

Contact person

Page last updated

19.10.2023
Course Content
Strategic management centers around the formulation and implementation of a company's strategic goals. The starting point of the course is the question: "What is strategy?". Against this background, you will receive insights into important fundamentals of strategic management and selected methods of determining a company's status quo. Considering classical approaches as well as current advancements, the course will teach how to develop strategies. Moreover, selected strategies will be discussed, namely digital strategies, diversification, and strategic alliances.

Relevant Course Material
Relevant documents will be uploaded over Moodle for the lecture and tutorial (enrolment key: Mintzberg2023)


Examination
The exam inspection for "Strategic Management: Concepts and Cases" (Summer Term 2023) will take place on Tuesday, September 26th, 2023, in room 332 (Ludwigstr. 28, rear building, 3rd floor). If you wish to inspect your exam, register via email at timoschenko@lmu.de until September 24th. Registrations received after this date will not be considered. Please include your last name, name, and student ID number in the e-mail. You will receive an answer via e-mail with a specific time slot for your exam inspection until September 25th, EOB. Your time slot will be between 2 and 6 p.m. Please note that there will be no alternative date and no inspection outside your specific time slot. We do not offer online inspections. Please bring a student ID and personal ID to the inspection. If you cannot attend the exam inspection yourself, please send us the name of your delegate beforehand and make sure that they have a valid letter of authorization (Vollmacht) as well as a valid ID. The letter of authorization can be written either in English or in German.
27.07.2023 10:30-12:30
Schedule
| | Start | Time | Location |
| --- | --- | --- | --- |
| Lecture | Monday, 17.04.2023 | 10:00-12:00 (c.t.) | Geschw.-Scholl-Pl. 1 (M), M118 |
| Tutorial A | Tuesday, 25.04.2023 | 14:00-16:00 (c.t.) | Schellingstr. 3 (R), R051 |
| Tutorial B | Tuesday, 25.04.2023 | 16:00-18:00 (c.t.) | Geschw.-Scholl-Pl. 1 (D), D209 |
Contact person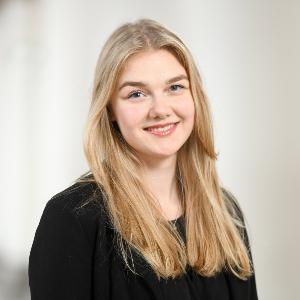 Gabija Baugirdaitė, M.Sc.
Research and Teaching Assistant & Doctoral Student