Digital Innovation
Facing digital change innovatively and successfully is a crucial organizational competence.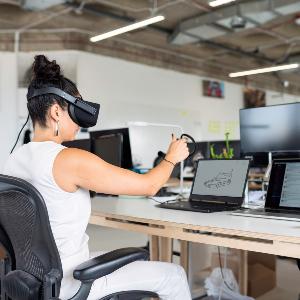 Digital Innovation
The rapid advancements in information technology (IT) cause a digitization of innovation processes and outcomes (i.e., products, services, processes, business models). Facing the digital revolution successfully and innovatively is therefore a pivotal competence of all sorts of organizations - in both, the private and public sector.
The necessary competencies and capabilities for digital innovation seem to reside in different organizational functions. R&D and IT departments, as well as "Digital Innovation Units", which are oftentimes set up separately from the main functions and similar to start ups, all seem to be key drivers of digital innovation. Nevertheless, digital innovation efforts generally still prove difficult for organizations, and many digitization and innovation projects fail to deliver the expected results. One of the key success factors and at the same time one of the biggest challenges to realize an organization-wide digital innovation process, is the bundling and reintegration of innovation capabilities that are distributed across different organizational functions.
Thus, one focus of this research area is the digitization in organizational environments and the digital transformation of innovation processes and structures in organizations. In particular, we investigate the effects of the increasing relevance of digital innovation on organizational design and behavior. The Institute's research interest hereby resides in developing an understanding for the organizational and the "people" side of digital innovation in organizations, regarding its structure, process and outcomes. By building on this understanding we intend to generate further stimuli for practice.
Illustrative research interests
Intraorganizational collaboration
Intraorganizational coopetition and rivalry
Cross-functional integration efforts
Consequences of digital transformation on employees' creativity and job design
Implementation of new forms of collaboration (e.g., agile methods) in digital innovation contexts
We are open to collaborate with industry and evaluate digital innovation projects based on state-of-the-art quantitative and qualitative research methods.
If you are interested in our research area "People Side of Digital Innovation", please get in touch with us and contact Prof. Dr. Martin Högl (ilo@som.lmu.de).