Women in Business
By female students for female students.
WIB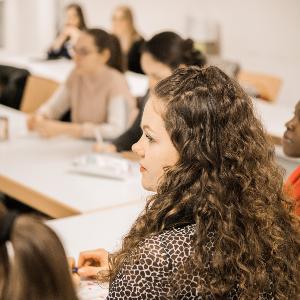 The Women in Business (WIB) programme is a student-led project in collaboration with the LMU Management Alumni network. Under the motto "Empower & Connect", it brings talented, motivated female students from all disciplines at LMU Munich into contact with companies and inspiring female personalities through skills workshops, lectures and fireside chats. In this way, the programme promotes both the personal development and networking of its more than 500 members at an early stage in their professional careers.

Concept and procedure
What is the WIB Programme?

The WIB Programme was launched in 2018 by Ariana Huber and Laura Schraml with the support of the LMU Management Alumni network. The aim of the programme is to support female students in building a network and in their personal and professional development. The programme is based on the following three pillars:

Connection: Through workshops, lectures, fireside chats and other event formats, we aim to create and strengthen connections between female students, companies and inspiring female personalities.
Development: Through skill-based workshops, we want to promote the personal and professional development of female students and optimally prepare them for entry into their desired industry.
Mentorship: Through the exchange with successful and exciting women, we want to inspire female students and give them tips on how to deal with gender issues and other challenges in their professional lives.
Who is the WIB programme aimed at?

The programme is aimed at all female students at LMU Munich, regardless of their subject or degree. WIB membership and participation in the WIB programme is free of charge and only requires online registration.

If you would like to play an active role in shaping the WIB programme, you can also apply to join our Student Committee.
How does the WIB programme work?
Participants of the WIB programme can take part in all our events free of charge.They can also register for one or more WIB tracks.There are currently two tracks available: Digital Skills and Personality Development. In general and within each track, you can participate in the following event formats:

Skill workshops: Skill workshops serve to teach various soft and hard skills that are particularly relevant in everyday working life.
Fireside chats and lectures: Selected female managers give a talk about their career path and previous experiences in the profession.Afterwards, there is the opportunity to talk personally with the speakers.
WIB tracks and certificates
You want to develop yourself in a certain area and receive a certificate for it? With the new WIB Tracks you can do just that. You have the choice between the following tracks:

Digital Skills Track: An understanding of new technologies and a corresponding skillset are more important than ever before due to the advancing digital transformation. In the Digital Skills Track, you will gain an insight into professions, companies and current topics with a technology and digital connection. You can also improve your own digital skills, for example, by learning the basics of various programming languages or how to use relevant software.

Personality Development Track: Strong soft skills are the foundation for a successful career. In the Personality Development Track, our cooperation partners support you in further developing your strengths and working on your weaknesses - from rhetoric and presentation techniques to self-organisation.

What's your path? Choose now!
With the WIB Tracks you can choose which focus you want to put on your personal development and preparation for your career. Each track offers you at least three exclusive events per semester and a certificate after successful participation. Of course, you can also participate in several tracks at the same time.
Please note: Participation in each of our events is still non-binding. Even without taking the entire track, you can participate in any of our events as usual.
WIB Track Certificate
Would you like to receive a certificate for participating in one of our tracks?
Here's how:
Send us a short email to wib@som.lmu.de to let us know that you plan to take the Digital Skills and/or Personality Development Track this semester and would like to receive a certificate for it. Then meet the following requirements to receive your certificate:

Level 1: If you have not yet taken the track of your choice, you can achieve Level 1 by attending at least 2 events of the track and 1 Core Element event.
Level 2: If you have already reached level 1 of the track, you can reach level 2 by participating in at least 3 events of the track and 2 core element events.
Level 3: If you have already reached level 2 of the track, you can reach level 3 by participating in at least 4 events of the track and 2 core element events.
We will keep a record of your attendance as long as you are on time from the beginning to the end of the event. If you have attended all the required events, we will email you your certificate at the end of the semester.
Does the certificate say which events I attended?
Yes, the title of the event is mentioned on the certificate. This makes it clear in which areas you have developed further.

Can I complete the certificate over a longer period of time?
Yes, you can complete the certificate over 2 or more semesters. Please note, however, that for 2 semesters you have to attend twice the number of events, for 3 semesters you have to attend three times the number of events, and so on.
WIB membership
Your advantages at a glance:

As a member of the WIB programme, you can benefit from numerous networking and development opportunities:

Take a WIB track and develop specifically in the areas of Digital Skills or Personality Development and receive a certificate after successful participation.
Improve your individual skills through skills workshops with companies and make valuable contacts at the same time
Take part in exclusive talks and fireside chats by and with selected female executives and be inspired by their career path
Become a mentor or mentee within the framework of the FEMtoring programme.
Your registration and participation are free of charge and without obligation. We will provide you with more information after your registration. Let's connect - register now!

*You can unsubscribe at any time by e-mail.
Zukünftige Events
We will inform you about our future events via our social media channels, LinkedIn and Instagram, as well as via our newsletter, which you automatically receive as a member of the WIB programme.
Team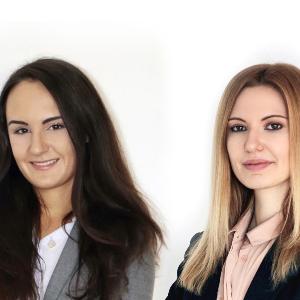 We, students of Ludwig-Maximilians-Universität, are setting an example for female empowerment in the working world with Munich's first student Women in Business programme. The programme is organised by a student committee led by Sophia Loschko. The Women in Business programme was founded in 2018 by Ariana Huber and Laura Schraml.

Founders of the WIB programme

Ariana Huber, business administration doctoral student
Founder & former programme director
"Often women have less confidence in themselves and underestimate their own abilities and possibilities. With the Women in Business programme, I want to support women to believe in themselves and become aware of their qualifications. I want to create a platform for networking and personal development that encourages female students to ambitiously pursue their career goals and always support each other."
Laura Schraml, B.A. Sociology
Founder & former deputy programme director
"'Every change first starts with ourselves.' True to this motto, it is not enough for me to only deal theoretically with topics such as gender issues, diversity and gender equality. Therefore, I was immediately inspired by the idea of my fellow student Ariana Huber to found a Women in Business programme. Through workshops and guest lectures, we now want to not only draw attention to this issue, but actively contribute to change."
WIB Student Committee
The Student Committee consists of around 35 female students from various disciplines. The committee members commit to at least one semester and meet weekly to work on the planning, organisation and implementation of the programme.
Want to be a part of the WIB Committee?
The WIB programme is always looking for support and ideas, because there is always something to do here. Can you spare 3-4 hours a week and would you like to play an active role in shaping the programme?
You can get involved in the following areas:
Event Organisation: Workshops, lectures and other events with exciting speakers and companies - design and organise your own events within the framework of the WIB programme.
External Communications: With your enjoyment of writing, you will support us in the area of online marketing and the general external presentation of our programme.
Social Media Marketing: The social media channels of the WIB Programme have to be constantly updated with appealing content - creative ideas are always welcome.
Operations: The satisfaction within the WIB Committee is important to us - your analytical skills support us in the project organisation and evaluation of team satisfaction.
Graphic design: Your creativity is needed for the conception of layouts, social media templates and other promotional materials.
What you should bring with you:

Interest in the topics of the WIB programme and the desire to realise your own ideas.
A high degree of initiative, independence and reliability
Time for a weekly meeting and a workload of 3-4 hours per week
Enjoy working in a team
Keep an eye out for our latest postings on our Instagram page and become a part of the WIB Committee. We also look forward to your support in the current semester! Simply send us a short letter of motivation explaining why you are the right person for the position to wib@som.lmu.de.Wir. We look forward to hearing from you!
WIB FEMtoring
What is WIB FEMtoring?
WIB FEMtoring is a mentoring programme for members of the WIB Programme and is thus open to female students of all disciplines at LMU Munich. Through WIB FEMtoring, we offer our members, as mentees, access to personal support within their studies and, as mentors, an opportunity to pass on experience and knowledge.

Why should I participate in WIB FEMtoring?

Connection: The mentoring tandems can link up with each other and create a long-term connection through regular exchange.
Support: With the help of mentoring, you as a mentee receive academic, professional and personal support from your mentor. As a mentor, you make an important contribution by passing on your experience and knowledge.
Development: Through the intensive exchange as well as the passing on of experiences and learnings of the mentor, each mentee can develop individually. As a mentor, you can also develop personally through new tasks and challenges.
How does WIB FEMtoring work?

Step 2: After your registration as a mentor or mentee, we match you with a mentee or mentor based on your information and wishes and establish the first contact. If both sides agree to the matching, you are ready to go!
Step 3: Let's start! From now on, the mentor is there to help and advise her mentee - no matter whether it's about an upcoming exam or a job interview for an internship. It's up to you to decide exactly how your mentoring will be structured in terms of content!
Have we convinced you to sign up for WIB FEMtoring? Then register now as a mentor or mentee.
Do you need more information or do you have any questions? Then feel free to write to us at wib@som.lmu.de
WIB-Podcast
In the WIB podcast we regularly talk with exciting guests about career topics, equal opportunities and gender equality in the world of work.

For each episode, we invite experts from business and research to talk about everything young women need to know about starting a career.

What should I keep in mind when negotiating a salary? How does the "unconscious bias" affect me? And what can I do if I don't know at all how and where to start my career? We answer these and more questions in the WIB podcast.

You can find our contributions on our podcast feed or on Spotify under "WIB-Podcast".